Kanaha is a long stretch of beach that is home to the Maui Kite Schools. The Maui locals separate this one stretch of beach into different sections: School Beach, Ka'a Point (Pro Beach), Naish Beach, and Old Mans Beach.
SKILL LEVEL:
BEGINNER – INTERMEDIATE
SURFING

FREESTYLE

FOILING

BIG AIR
OTHER NAMES
Kite Beach, Pro Beach, Pro Pool, Naish Beach, Old man's, Teach Beach, Action Beach
SKILL LEVEL
Intermediate, you will want to know how to self launch and land. When winds are ENE this spot may not have wind.
WIND DIRECTION
NE winds are the best.
LOCATION / DIRECTIONS
Far west end of Kanaha Beach Park (North Shore) in Kahului. Take Rd. east past the waste water treatment plant. Turn left immediately after crossing over a drainage channel.
LOOKING FOR DIRECTIONS?
Click the link below and give us your email so we can send you the locations to all the top spots on the north shore of Maui.
Entry is poorly maintained and can be difficult to navigate in a vehicle with low clearance. During winter the approach to the main parking lot can be filled with water (much like Naish beach) and may be hazardous for a low­clearance vehicle. If you can get to the parking lot it is quite nice because you are parked very close to the ocean and rigging area.
The rigging and "hanging­out" area is sheltered from wind (unless wind is N or less than 40 degrees). There is a protected "pond" area where kids can swim without threat of waves. These features and the close parking, make it popular for families with kids. Of all the Kanaha kiteboarding sites this is the most poplular with fisherman. During spring and early summer there can be a crowd of fisherman fishing for Oama in the pond. It's not uncommon to find the beach lined with poles in the launch area also. There are a few good Ironwood shade trees still standing although recent erosion has led to significant shade reduction.
It is a great place to watch­­up close­­expert kiters laying down their moves.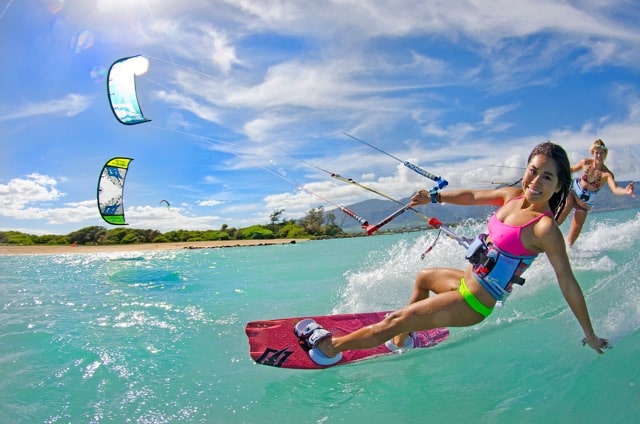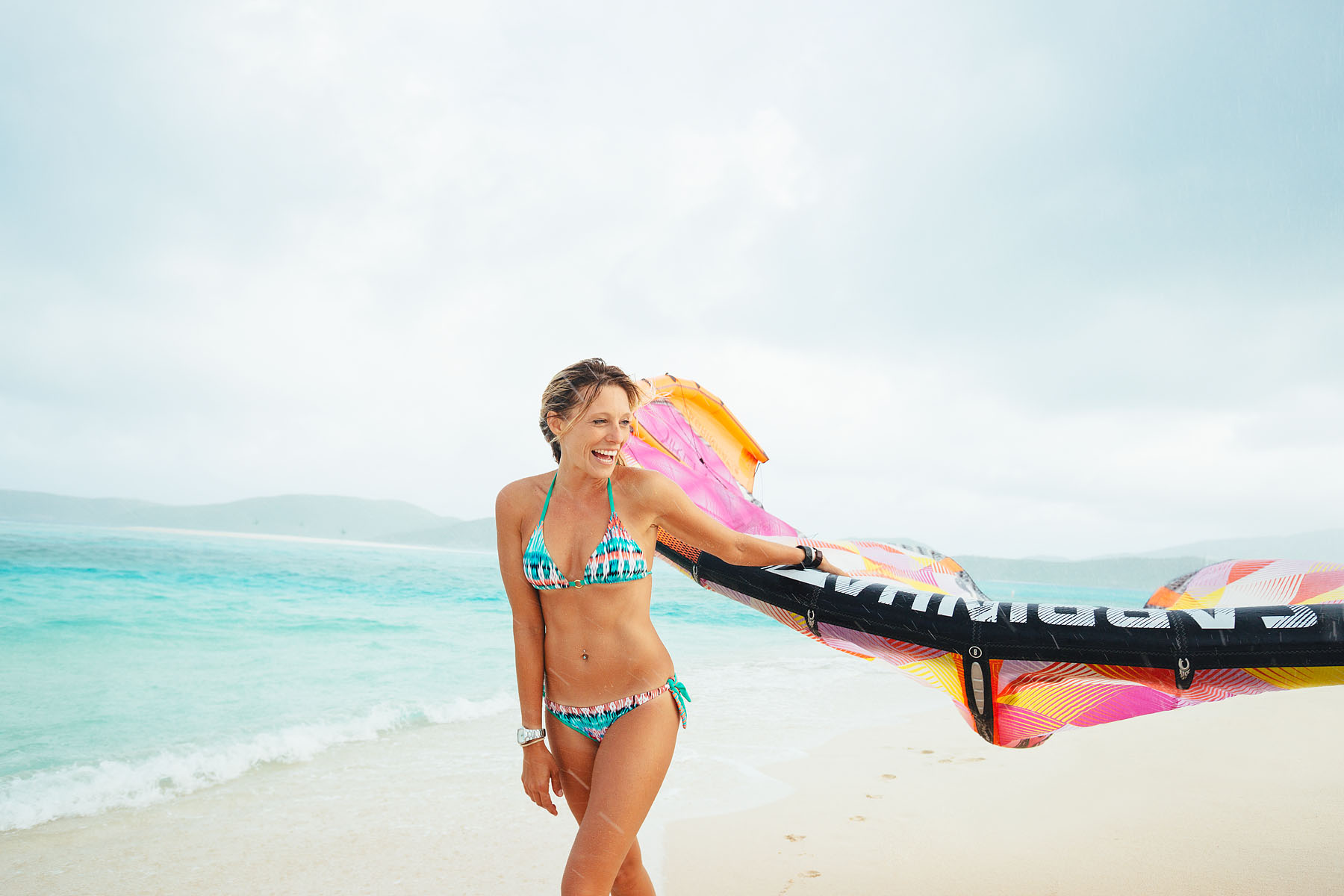 It is a beautiful launch area but there is only one place to launch so keep this area clear of gear. Launching is easy if the wind is NE (less than 50­55 degrees) but can be tricky if ENE. At this wind angle the launch site is protected by trees on the upwind point. If this is the case you should consider drift launching. It is a nice drift launch. Alternatively (for more advanced) launch a little hot and bring the kite up high to get into cleaner wind and quickly make your way to the water.
On the return to the beach come through the Pro Pool and drop your kite downwind of the launch zone. With a wind direction of more than 40 degrees you shouldn't need anyone to catch your kite. The trees block the wind on the ground. Watch for swimmers and fishing poles. If it is crowded with non­kiters consider landing just downwind at Teach Beach and walk back. If the wind is ENE getting all the way to the beach can be difficult and you may need to drop your kite in the water and swim a little ways. With ENE winds it is tempting to come through the Pond upwind of the launch zone (small gap between the rocks) but PLEASE DO NOT THROUGH THE POND. This is fraught with danger. Most importantly there are usually kids swimming in the pond and the families of those kids may become upset. Second, the rocks are dangerous. Third you can easily place your kite in the tree from this angle or land it on kids.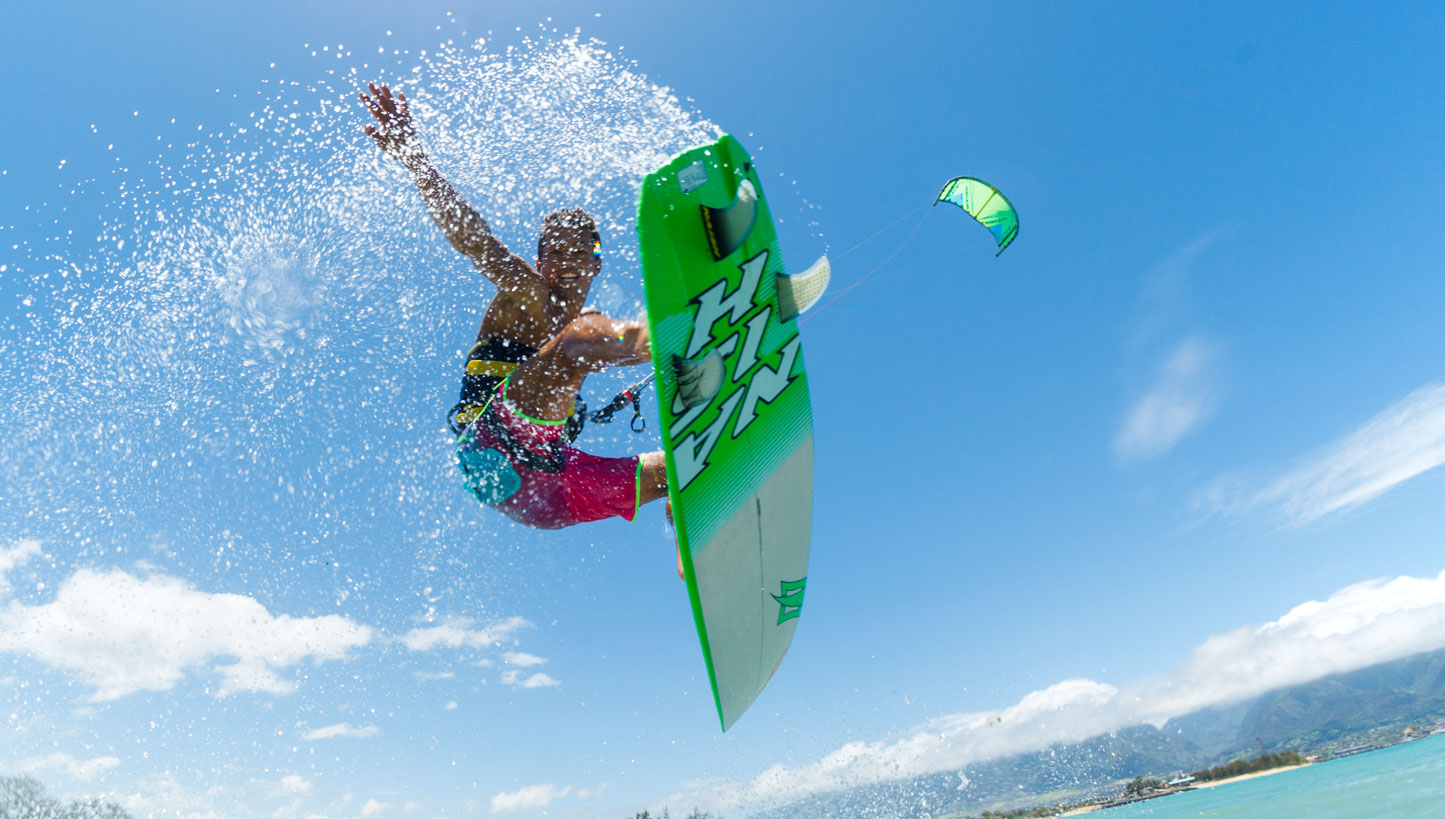 This is one of the most well known kiteboarding beaches in the world and it is popular with non­kiteboarders as well. This popularity amongst diverse user groups demands that you be sensitive to the situation on the ground and in the water and be ready to adapt. Be courteous, respectful and keep the peace.
MENU
Home
About
Rules
Kite Schools
Forcast
Donate
Contact
KITE SPOTS
Kanaha
Lanes
Sugar Cove
Baldwin
Kihei
JOIN US
Click here to join our amazing community and get exclusive access to important content to help you kite in Maui.