Aloha Kiters and Friends of BABY BEACH LAUNCH SITE , This launch site was negotiated by the MKC with DLNR and Maui County Lifeguards. This is in good faith an effort to help promote continued access, without fail and without incidence, to use the Baby Beach access on Baldwin Beach for Launching and Landing kites. We have been asked by the Lifeguards and the DNLR, to help "Police" the area and help educate any newcomers and locals alike to the new rules concerning kite surfing on this beach.
SKILL LEVEL:
INTERMEDIATE -ADVANCED
SURFING

FREESTYLE

FOILING

BIG AIR
SKILL LEVEL
Intermediate to advanced. You want to know how to self launch and land. 
WIND DIRECTION
NE, NNE, and ENE winds all work. As winds get ENE the launch can be punchy. Be aware with self launching.
LOCATION / DIRECTIONS
This spot is between Baldwin Beach Entrance and Baby Beach. The launch site is around the corner, east of the Baby Beach Reef. 
LOOKING FOR DIRECTIONS?
Click the link below and give us your email so we can send you the locations to all the top spots on the north shore of Maui.
History and User Groups is a major issue to consider when using this area.  It is primarily used by Mothers and children, athletes , swimmers, divers, fisherman, and walkers.  Historically these groups have been around long before Kiting so be SUPER RESPECTFUL and observant that we visually see where any persons are in relationship to our kites,  especially in launching and landing. 
Description of waves and wind can be said to be quite harsh.  The wind blows very onshore and usually above the 20 mph range and into the 40's often. If there is a swell running the shore break can be risky and hard to judge but there is usually a channel which is safe to go out. Be observant, especially of the swimmers who like to swim from Baby Beach to the lifeguard tower at Baldwin. Outside the reefs provide many waves and assorted conditions that require advanced sailing techniques only,  which is not suited for the novice.  In other words its quite big and can be dangerous. Its a long swim and hard to self rescue back to the safe beach.  The current will pull down towards all the reef at Baby Beach and Secrets and then on to Sugar Cove which will be the only spot to get in for quite a distance.  So be aware of dropping wind conditions so your not caught in the lee of the reef to get back to the landing zone. Sail upwind as you get to know this spot to avoid ending up to low. As usual, there has been shark sightings and many turtles so avoid running into them at all costs. 
Common Problems might be and not necessarily happen, but be aware mostly of the walkers and swimmers . Often the fisherman set up poles in the sand,  so be respectful and just launch further away. We are NOT granted any rights with this access but the State has asked us to address a few safety issues.  
There are a number of Kiters who regularly frequent BABY Beach launch site and will happily answer questions about the rules and regulations to help prevent incidents  and that will help keep our beach open.  Please ask if you have questions or concerns.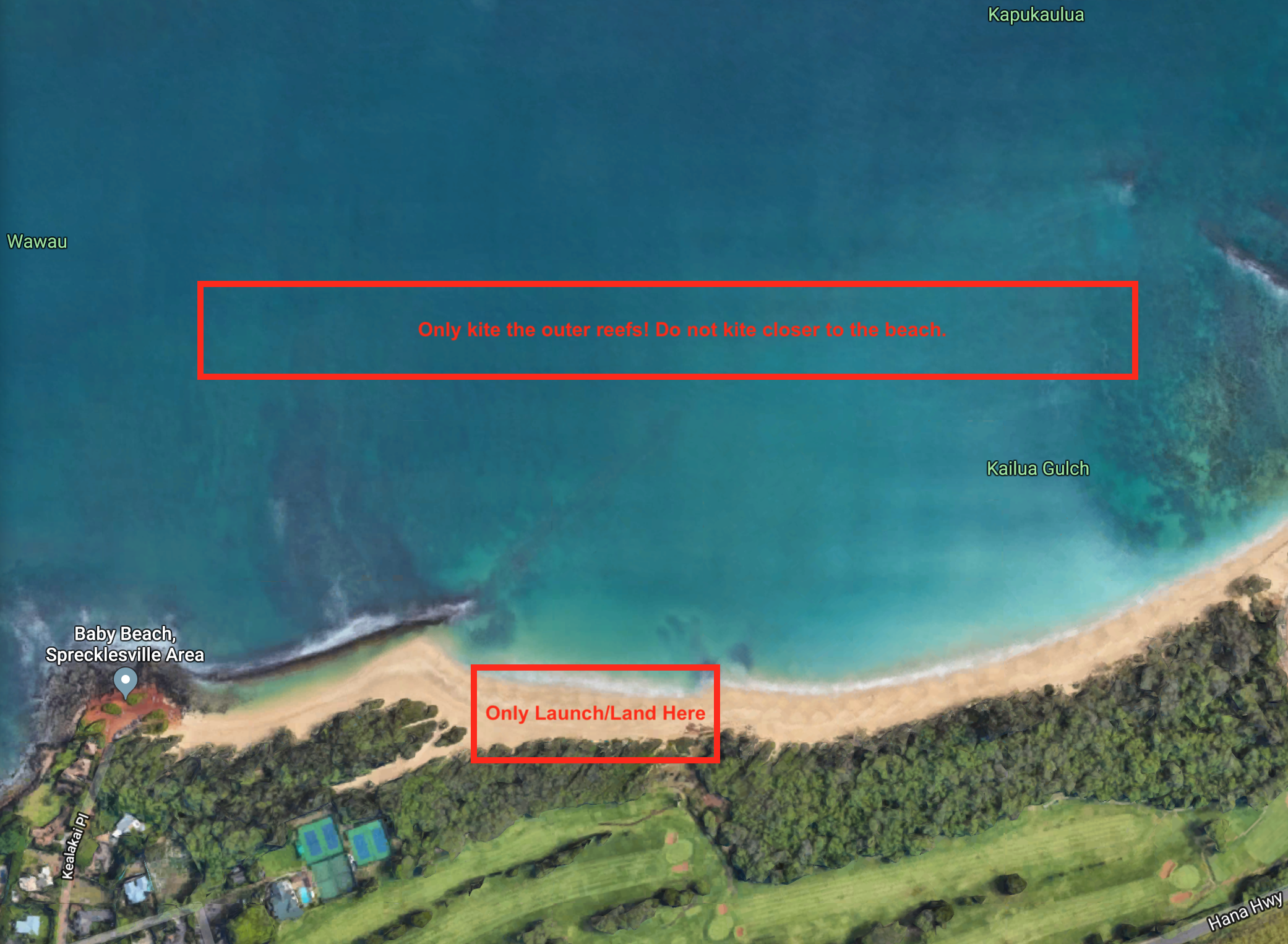 LAUNCHING & Landing YOUR KITE
Launch site is to the EAST of Baby Beach beyond the exposed reef approximately 300 yards. There is to be no launching any closer to the reef and beach goers near Baby Beach .  The "Launch Site" provides a safe, reef free, launch to sail the outer reefs and area described open to kiting and water sports.  All Kiters using this beach are required to be able to launch and land themselves independently and safely without incident.  This was developed by the Lifeguards and the DNLR to help promote the use to advanced kiters and eliminate the novices or beginners for obvious safety concerns specific to and for the beach area.  A SWIM ZONE covers most of Baldwin Beach 1000′ out , starting 200 yards east as the sing at the launch site describes.  STATE LAW says to stay 200′ from any NON Kiters , except for ingress and egress.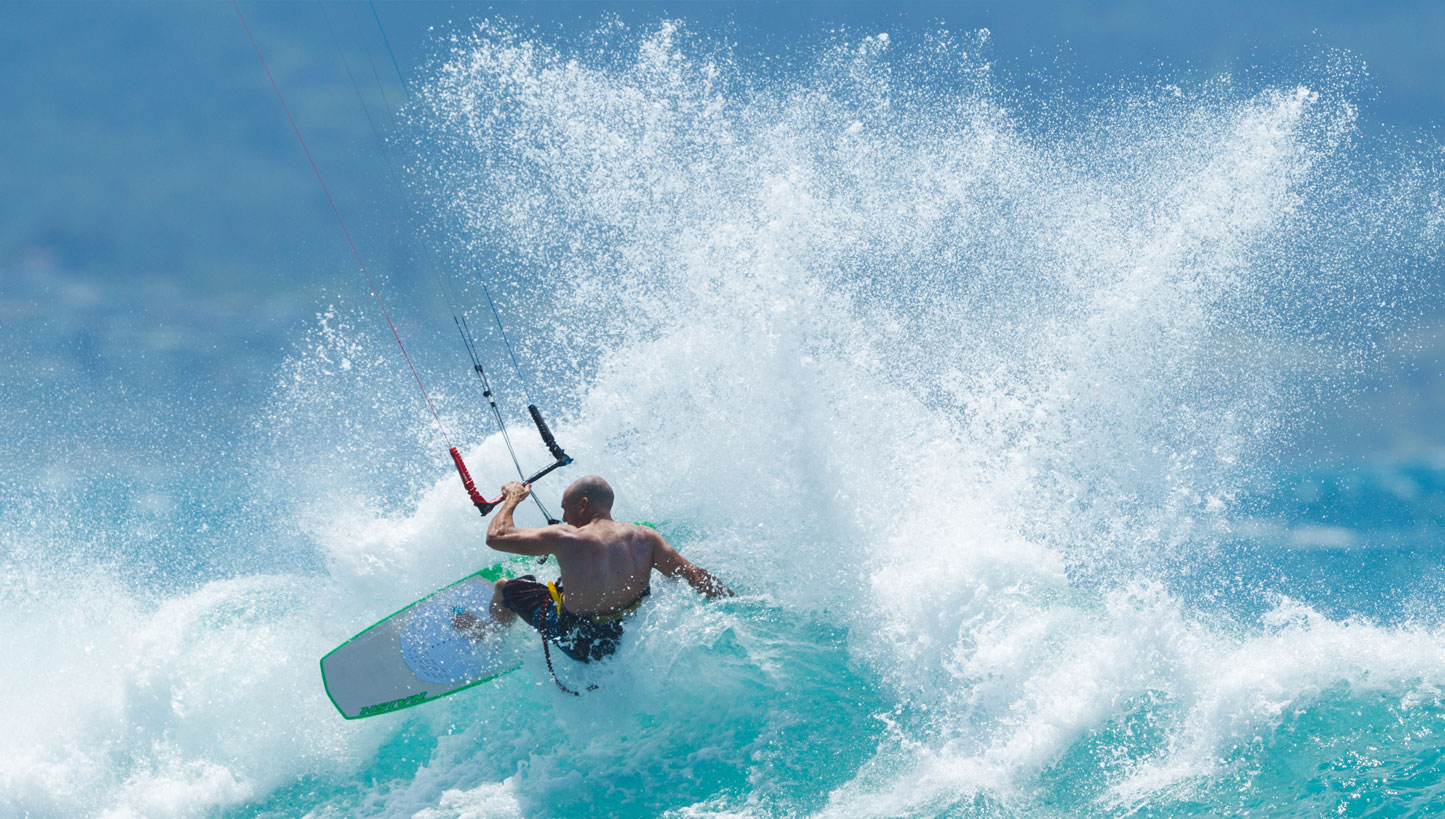 The following RULES were worked out with the Kiters and the Lifeguards for the DNLR to provide a safe launch.  Please be Respectful and follow the beach rules below:
1.  No walking through Baby Beach with an inflated kite.  It appears that the non kiters think that this is a dangerous situation.  I explained to them that the reason for that was there was no security for our stuff on the beach and that I had actually been ripped off of my bag, pump and car keys when the beach first opened up.
Of course they are not responsible for any type of security. 
2. It is imperative  that we give a wide berth and be very aware of swimmers, divers, and fishermen and people walking or jogging on the beach. Swimmers swim from the lifeguard tower to Baby Beach and cross the kite launch zone at all hours but mostly in the early part of the day, so be aware.
3. According to them the beach is exclusively for launching and landing to get out to the reefs.  This means no sailing in the shore break .  
4. This launch is a advance sailers only, no beginners  and absolutely NO TEACHING KITING on this beach.
5.  No launching and sailing over the reef as in jumping it.  NO launching anywhere else on Baldwin beach is allowed.
6.  No sailing within 1000′ off the main Baldwin Beach area  starting 200 yards east as the sign at the launch site describes. 
7.  The lifeguards do not want to see kites in the air, unless they are going into the water, as in launching, or coming in, as in landing.  NO STANDING  on the beach with a kite in the air.  Absolutely NO TRAINER KITES Allowed on BABY BEACH.  period. 
Parking at Baby Beach is limited and relatively safe and a short walk to the launch site.  The BEACH IS NOT SAFE against theft.  There has been many thefts of kite bags and other bags off the beach. It is highly recommended to bring only a pump, kite and board with you to launch. Pumps left on the beach do not seem to be a theft problem.
MENU
Home
About
Rules
Kite Schools
Forcast
Donate
Contact
KITE SPOTS
Kanaha
Lanes
Sugar Cove
Baldwin
Kihei
JOIN US
Click here to join our amazing community and get exclusive access to important content to help you kite in Maui.